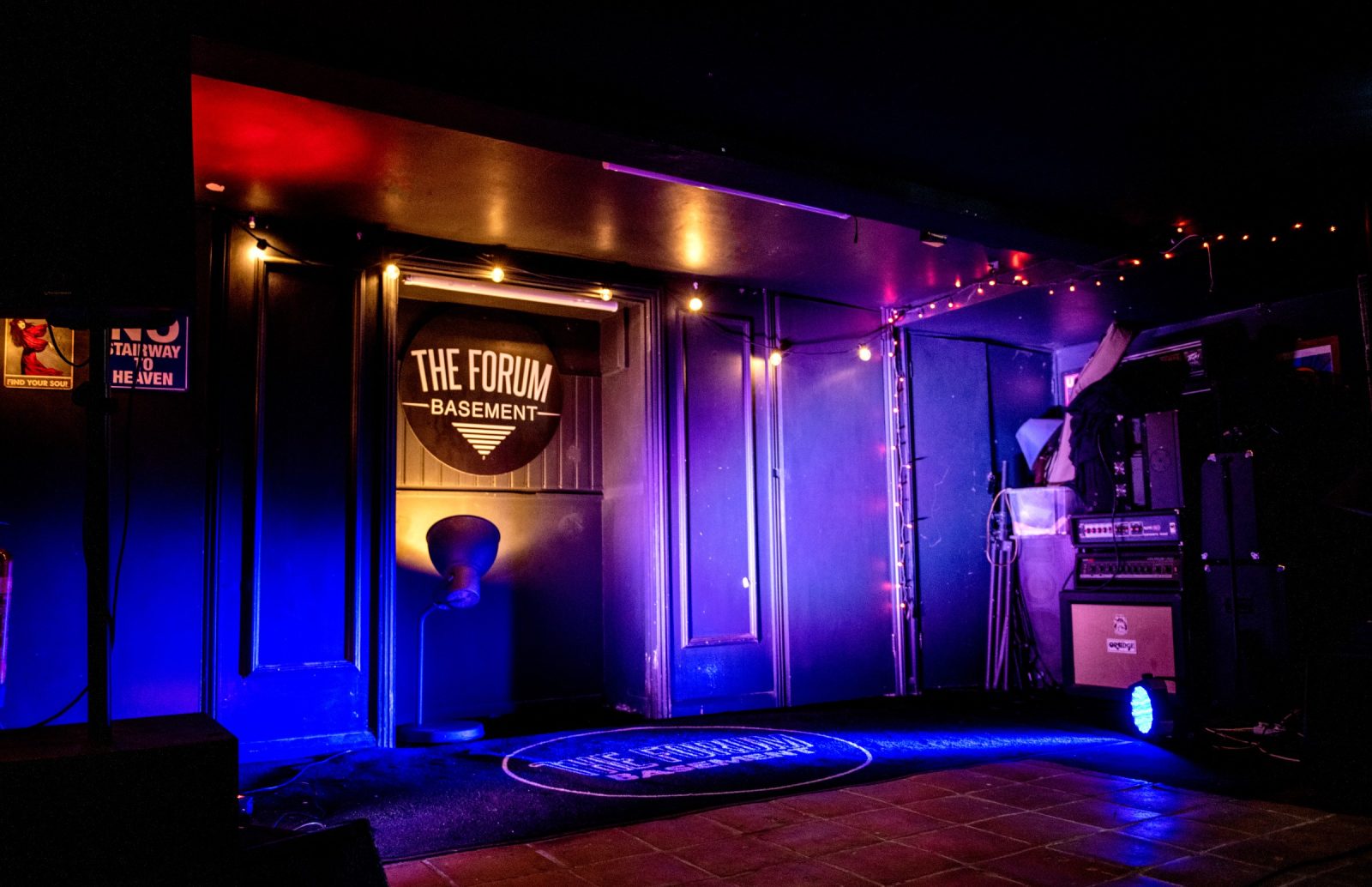 Live Music in Tunbridge Wells
Welcome to the Forum Basement, our intimate, 50-capacity live music venue in Tunbridge Wells. We showcase a diverse range of talented artists from various genres, from country to punk rock and grunge.
At the Sussex, we have always been dedicated to supporting up-and-coming artists. Our tiny live music venue has had the privilege of hosting renowned acts like Soft Play (previously known as Slaves), Maisie Peters, Yonaka, and The Wytches for their early gigs.
Run in collaboration with the Tunbridge Wells Forum (an independent music venue), the Forum Basement in the Sussex Arms offers a warm and electrifying atmosphere. In addition to hosting gigs, we actively contribute to the live music scene in Tunbridge Wells by participating in events and festivals like Unfest and Local and Live.
Check out our complete gig listing below and book your tickets online today.
Whats On?
Interact with the polaroids to reveal their description, admission price and a booking link.
Admissison: £7
18+

CODE: MARLA

"Code: Marla are on a mission to recapture the excitement of the rap/rock mash up genre of early 2000's nu-metal, but with a modern, more EDM focused twist. They combine dubstep, trap, jungle, and metal to create music you can equally bop, skank, and mosh to. Initially started as a solo project, Code: Marla has evolved into a full 6 piece band and are currently working on new songs which see them take an even heavier route, and doubling down on distorted guitars, wide sweeping emo style choruses, and of course, enough ground shaking bass to get any party going."

https://www.codemarla.com

PALINDRONES

"Palindrones is an electronic music duo from South East London. They craft immersive musical landscapes, mixing pounding beats and blistering synth drones, with a lush ambience, hypnotic organic textures, subtle pop melodies and haunting, esoteric lyrics that draw the listener into a dream-like reverie. Palindrones was born in the London DIY punk/rock scene, with an approach to play dance music with the energy of a punk gig and the pulse of a techno club. In 2023 Palindrones played a variety of shows including Alice's Wicked Tea Party in Dorset, Brockley Max Festival, Maidstone Fringe and Whitby Goth Weekend, plus the privilege of supporting iconic 80s band A Flock of Seagulls' sold out show in London."


https://www.instagram.com/palindronesofficial/
https://www.facebook.com/palindrones
http://www.youtube.com/palindrones

All part of Head Up, a multi venue community mental health event across Tunbridge Wells. Raising money for West Kent and West Sussex Mind

Head Up is a mental health community event on one night across Tunbridge Wells raising money for West Kent Mind and West Sussex Mind. Each stage is tailored to a different audience with the message to fight the stigma against mental health and keep the conversation going.

Admissison: £0
18+

The Sussex Open Mic returns for the last time this year.

Free to enter, free to watch. All abilities welcome. Just bring your voice/guitar/keyboard/harp/whatever you want, and have a go.

Admissison: £7
18+

Zap Euphoria – Zap Euphoria are a fresh, eccentric 5 piece from Tunbridge Wells. Consisting of frontman Jude Reid on destructive lead vocals and guitar, Erik Miles on thunderous bass and punk-rooted spoken word, Hayden Sudlow on the tantalisingly acidic lead guitar, Arthur Wilson on a drum stool when he isn't on the floor, and Heidi Haswell rocking the beefy Hammond organ with elegant harmonies . They sit on the boundaries of psych rock travelling into mixtures of garage punk and desert rock, graced by the 60s swing and reaching into influences of folk and indie realms. Landing themselves in a place of sensation, a place of euphoria.

*Jar Of Blind Flies – * Brighton's Jar of Blind flies are quickly building a reputation in grassroots scenes across the country. Having already sold-out self-promoted headlines in Bristol and Brighton, worked with promoters up and down the UK and supported the likes of Snayx, Sick Joy and Gaffa tape Sandy.

However, it's the bands live show that truly sets them apart. Described by The Brighton source as a 'Tsunami of sound' that are 'as likely to turn you on as they are to get you moving'. Their infectious energy has seen them play to sold-out crowds of 350 people at Brighton's Cost of living fundraiser, Support some of the hottest emerging acts In the UK and even sell out their debut show in Bristol (A self-promoted headline).

*Dumfun – * Dumfun have become a potent force in the UK alternative rock scene with a thrashing sonic that leaves legs tired and necks sore.  The trio first came to fruition in 2022, when Conah White (guitar/lead vocals) enlisted the aid of old friend Sophie Douglas (bass/vocals) and rhythmic metronome Jed Johnson (drums) to form this exciting new project. Simply put, the project was born out of the ideas and emotions the band aimed to evoke. After all, it's all just a bit of Dumfun. After first making a name for themselves in their hometown of Brighton, the trio have hardly stopped to catch a breath headlining sold-out shows across iconic grassroots venues as well as sharing the stage with the likes of Sickjoy, Projector, and Snake Eyes, as well as soon to play with local legends Tigercub in October.  Espousing the alt-rock feel of the mid-2010s, the trio blend a compelling mix of grunge, punk & alternative rock echoing greats such as Dinosaur Pile Up, Pulled Apart By Horses, and Demob Happy.  Due to release their second single 'Alone Again' in December 2023, the group celebrate with their first joint tour, forming an alt-alliance with fellow noisy alt-rockers Jar of Blind Flies.

Admissison: £12
18+

With a stellar line-up of comedians, held together by your favourite host, comedian Rich Wilson.

Our opening act is Dan Jones:
Amused Mooser Breakthrough Comedian of the Year 2019 and Leicester Square New Comedian of the Year 2022 Finalist

"Definitely one to watch" Rhod Gilbert

Middle acts: Claudia Trentino and Scott Fishenden.
And Headliner is one of our favourites, Dan Evans:
For over a decade Dan's accessible but childish surrealism has delighted audiences throughout the UK and Ireland. He's also had his grammar corrected by Dutch and German crowds; performed for chubby sweating ex-pats in Dubai, Abu Dhabi, Singapore and Thailand, and is one of just two UK comics to play Hanoi, Vietnam.

He's appeared on BBC 2's 'Brain Candy', 'Channel 5 at The Store' and the Channel 5'Comedy Zone', Radio 2's 'Stand Up Show' and '28 acts in 28 minutes' on Radio 4.

Admissison: £10
18+

Swansea Sound

Swansea Sound are Hue Williams from The Pooh Sticks, Amelia Fletcher and Rob Pursey both from legendary '80s/90s indie pop bands Heavenly and Talulah Gosh and also these days The Catenary Wires, with Bob Collins from The Dentists, and Ian Button from Death In Vegas, Louis Philippe, Pete Astor and Papernut Cambridge.

Formed during lockdown, the band recorded three singles – at their homes in Cardiff and Kent – without actually meeting each other. Corporate Indie Band appeared as a cassette on specialist label Lavender Sweep. It got a lot of airplay, and the next releases were on 7" vinyl, including Indies Of the World, which made it into the UK vinyl Top 10. A debut album, Live At The Rum Puncheon, was released in 2021 to considerable critical acclaim.

'The glorious sounds of C86 brought into the now.' Thomas Patterson, Shindig.

'Close to an indie pop miracle.' Tim Sendra, All Music.

The Treasures Of Mexico

The Treasures Of Mexico are a collection of long-time Medway musicians, including Mark Matthews and Bob Collins, both ex-members of UK Indie legends The Dentists (and many more since), with Russ Baxter on drums previously The Discords, The Men With The Golden Gonads and Phaze and currently the same for Secret Affair, and Nick Rice on bass, the same for Groovy Uncle and The Dutch Embassy too. Additional vocals are provided by Jetstream Pony's Beth Arzy.

Since the demise of The Dentists in the late 90's, Mark and Bob, key contributors and founder members, have been busy through a number of side projects and contributions to worthy musical causes, both together and separately, and most recently contributing with The Treasures Of Mexico.

With Mark on song-writing duties, in 2018 they released their second album 'Everything Sparks Joy' on Shelflife Records to much acclaim, hitting many Best Album Charts at the end of that year. Their third album 'Burn The Jets' was released in August 2023 on the Spinout Nuggets label.

With the long musical journey to this day (including The Dentists, Coax, Fortress Madonna, Words Beginning With X, The Great Lines, Echo Heights), it's not about the journey itself, it's about what comes through those speakers, and into your lives, no matter how it got there.

Admissison: £10
18+

Handpicking elements of pop, rock & emo in equal measure.

~

Set to release their debut album in 2023 via Cut to the Chase Records. Look out for the first single 'Answer Now' in March

Alie & Jericho have started from the ground up. They began their journey with debut EP 'If You Feel Like It' (2015). Sophomore EP 'We Fear Change' (2017) came at a time of change for the band as they embraced working independently – 'What is so wrong with being alone anyway?' so their song 'Green' goes… The band went on to release their third EP 'X' (2018), a face off between fears and faith. Singles 'Born Yesterday' (2019) and 'It's Alright' (2020) take you from empowerment to emotion and hit hard. All produced by Oz Craggs at Hidden Track Studios in their hometown of Folkestone, UK.

With tracks featuring on BBC Radio 1, Channel 4's 'Made in Chelsea', ITV's 'The Only Way is Essex', 'New Music Friday' Spotify playlist and BBC Introducing, SKIES sound has begun to reach some heights.

During Winter 2020, after a year of playing over 200 live streams & a month-long garden tour, the band retreated to a wooden cabin in the middle of nowhere to record some songs in response to the strange year the world had faced, this became the band's fourth EP 'It's Not the End of the World' and was released throughout 2021.

Shortly after, the band released single 'Deconstruction' (2022) alongside festival appearances throughout the Summer. They continue to move forward into 2023 with their debut album…

Admissison: £7
18+

The Unit Ama make music that explodes outward: dense but soothing metronomic pulses morph into a wild fracturing of the traditional rock trio, taking the possibilities of what can be done with guitar, bass, drums and vocals into the stratosphere. Whereas others have saught to push the limits of rock music by intense complication and trickery, The Unit Ama's approach is natural, human, shamanic even.

In addition to appearances on a number of compilations, The Unit Ama's songs have found a life of their own through the band's self-released Variations series. Now in its third instalment, Variations allows other artists free range to reinterpret a band's output as they see fit, further reinforcing the idea that The Unit Ama's music is not their own property, but that it somehow exists without a need for a definitive article and is much yours as it is theirs This free-wheeling approach to music making characterises The Unit Ama's first album. This is not anthemic, easy listening, but something far more challenging and ultimately, rewarding.

Admissison: £7.50
18+

The Metatrons are a delightfully fuzzy Riot-Pop band all the way from Hitchin. After signing to Chapter 22 Records in 2019 they released their "Deconstruction" album, which was a fantastic critical success, being called "The pinnacle of quality pop" and "a thunderous slice of pop majesty". Vive le Rock said the album was "bursting with bright, breezy driving rhythms…you should hear them" The band toured the album, opening for Altered Images on their UK tour in 2022 to add to the already impressive list of great bands they've worked with – Shonen Knife, Echobelly, The Primitives, Dodgy, The Blockheads, The Darling Buds, The Membranes, Steve Craddock and Glen Matlock to name but a few. 2023 had more more great shows and a summer full of festival appearances, just as they released their 4th album "Lumination" on Chapter 22 Records in June.

www.themetatrons.co.uk

Global touring musician, Tim Holehouse brings experimental sounds. For the past 16 years, Tim has been one of the most hard working in the industry, travelling the globe, touring throughout the UK, US, Canada Europe, and beyond. His touring adventures have brought influences to his sound today. Tim leads somewhat of a nomadic existence, but for all intents and purposes, treats London as his home when not out playing his trade to international and domestic audiences. He is equally prolific with his recording as he is with his travels, when not gigging his way round the world, he has found the time to release 20 albums and countless split releases, often with artists he tours with. Tim's own sound is hugely varied, he's often able to adapt to performing sets depending on the atmosphere of a show. He has been known to release folk, blues, experimental music and covers many other genres. Tim's songs come from a place of honesty and a keen ear for anything creative regardless of genre. His own philosophy is that, 'if music is good, it's just good, right?' To get a feel for Tim's wide and varied talent, be sure to check out his eclectic sounds and as Tim often quotes from one of his favourite films, 'Bill and Ted's Excellent Adventure': 'Be excellent to each other."

www.timholehouse.com